I'd like to draw your attention to Noli's latest project gun. Seems after our blood pressure raising export order run, he needed to do something to relax.
This Caiman started out with a
standard tank
and a 17 inch shrouded barrel. It now sports an extended Mid tank and reworked internals that help propel 21 grain .22 caliber Kodiak pellets at 1,050 ft/sec, giving it more than
50 Ft-Lbs
. The 600cc, 3,000psi reservoir supplies enough air for 40 balanced shots. The new 24 inch HW barrel is still wrapped in a T3 aluminum shroud, and the black/pepper laminate stock was redone to take the medium tank. I believe the proud owner will be using it to compete in the local airgun benchrest competitions that are growing in popularity lately.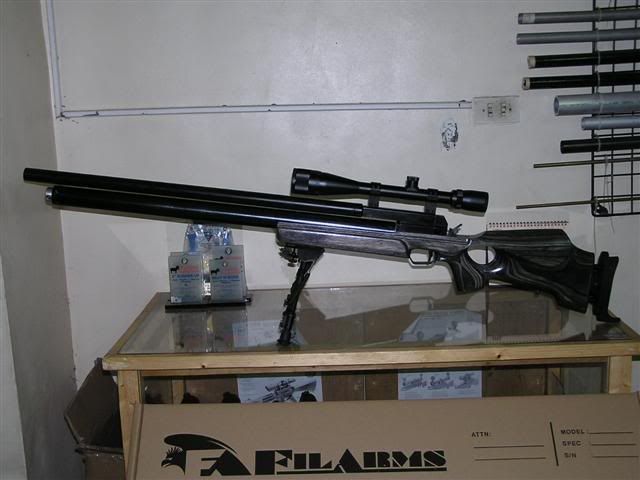 Here it is compared to a standard length shrouded Tornado.
A closer look at the butt plate...
The Mid tank it uses is 40.5mm in diameter, which puts it squarely between the standard (32mm) and the Bigboy (48.25mm). This new size reservoir looks promising as it offers a compromise between the size of the standard tank and the capacity of the Bigboy.
The local benchresters better watch out, this monster is the one to beat =)